We had a wonderful turnout for this year's district meeting. Our dinner was at capacity and we had guests from across the district and even some Brothers from Idaho! Thank you to all who came out to hear about what the Grand Lodge and District 24 are up to.

Blue Mountain Lodge No 13 F&AM hosted the district 24 meeting this year to celebrate its sesquicentennial (150th) anniversary.
The Grand Master's Achievement Award was bestowed upon Worshipful and Illustrious Brother John Stanford. Thank you, Brother, for all of your many contributions to the craft.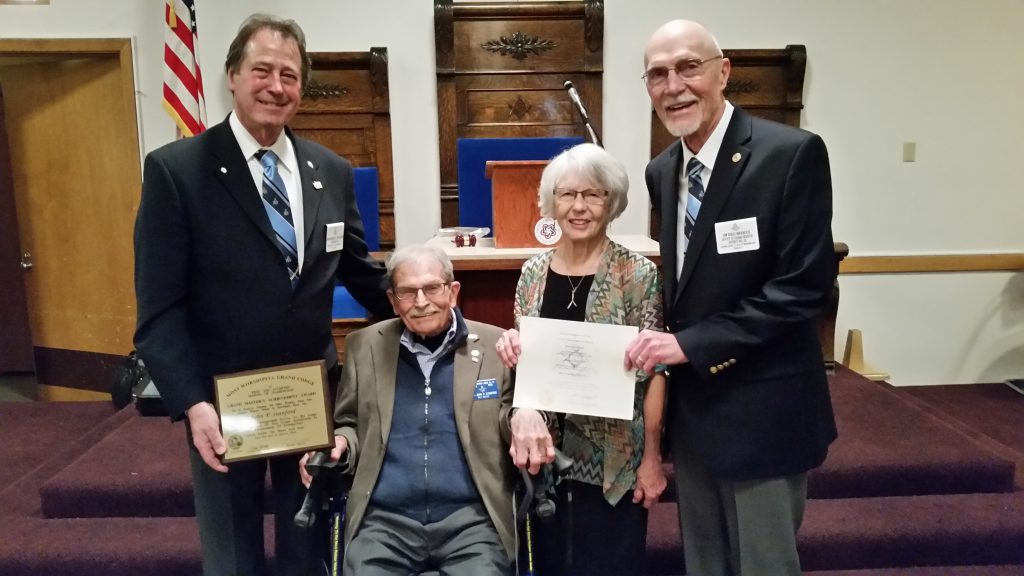 The news release for the event is below.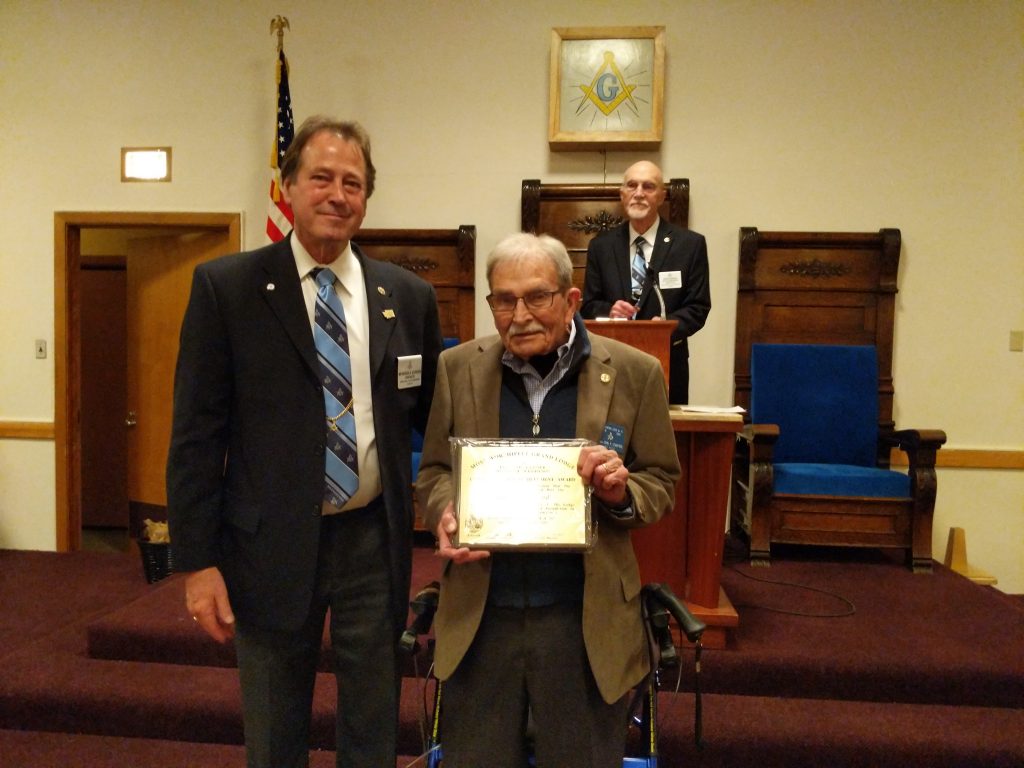 NEWS RELEASE
Public Relations Committee
Most Worshipful Grand Lodge of
Free and Accepted Masons of Washington
4970 Bridgeport Way West
University Place, WA 98467
800-628-4732
WA Free & Accepted Masons convene annual regional meeting in Walla Walla, present distinguished awards to College Place Brother
(University Place, WA, March 9, 2018) — The Free and Accepted Masons of Washington held their annual regional banquet along with a business and awards meeting this evening at an event hosted by Blue Mountain Lodge #13 in Walla Walla.
"More than 60 Masons from around the state and visitors from Lodges in Idaho, and their guests, turned for the evening's proceedings," said Doug Warnock, Deputy of the Grand Master in District 24. His area includes Masonic Lodges from Asotin to Walla Walla. "Our Grand Master of Washington Freemasons, Warren Schoeben, and an executive delegation, all came to learn firsthand how the Fraternity is doing in its philanthropic and community services in this part of the state."
During the gathering, the host Lodge announced plans for its 150th anniversary in the Walla Walla Valley.
"We were delighted to be asked to host this year's meeting," said Jack Largent, Worshipful Master of Blue Mountain Lodge. "The turnout was great and we were able to announce the kickoff of our sesquicentennial year. Our Lodge is planning a number of events this year and in September we'll officially commemorate our 150th year of service."
The business session featured a number of guest speakers and program executives from the statewide headquarters. Grand Master Schoeben took the floor for remarks and award presentations after the other agenda items were completed. He highlighted the theme for his term, "Communicate to Educate," and discussed the many charitable works of the organization around the state to aid and assist people with unique needs, provide scholarships, support civility, programs and opportunities for youth, work with military and veteran families, and encourage reading programs in public schools. He also took time to present high honors to a longtime Masonic Brother from College Place, assisted by District Deputy Warnock.
"It is my great privilege to announce the recipient of the Grand Master's Achievement Award in District 24," Schoeben said. "John P. Stanford, of Blue Mountain #13 has been selected for his long honorable service to our Fraternity and to the community. He is truly, as we say… 'A Mason Who Made A Difference' … and well deserves this recognition."
The Grand Master then called on Largent to assist him in also presenting Stanford with another Masonic honor, the "Hiram Award" for outstanding service to his Lodge and its members.
Stanford notes that he was the Worshipful Master of Blue Mountain 13 "around 1989" and has seen many changes over the years, but has always been pleased with its progress. The 92-year-old Brother is also a 33rd Degree Scottish Rite Mason and a Noble of the El Katif Shrine and past president of the Blue Mountain Shrine Club.
The Scottish Rite of Freemasonry provides highly-competitive scholarships for college students, early life speech and language programs, and supports leadership excellence recognition for Senior and Junior Reserve Officer Training Corps programs at the college and high school levels, respectively. Shriners' Hospitals for Children provide expert medical care for children in need and at no cost to the families. "It's been both humbling and rewarding for me to be part of all that," Stanford said. "My wife, Barbara, has been a strong supporter of all the things I've done with Freemasonry."
Stanford graduated high school in Hope, Arkansas and then joined the U.S. Army Air Corps with the 380th Bomb Group, flying combat missions as a B-24 "Liberator" ball turret gunner out of Papua, New Guinea. He rose to the rank of technical sergeant before being discharged after World War Two. He returned home to attend the University of Arkansas and earned a law degree. He later joined the federal civilian workforce, and after a career at locations around the country, retired as the Chief Counsel for the Walla Walla District of the U.S. Army Corps of Engineers.
Rounding out the events of the evening, Schoeben, Warnock and Largent invited all the attendees to help spread the word about the services offered by the Free and Accepted Masons of Washington by inviting interested parties to visit their website at: freemason-wa.org
Additional information about Washington Freemasonry is available by calling the office of the Grand Secretary at 800-628-4732 or via email to: grandsecretary@freemason-wa.org